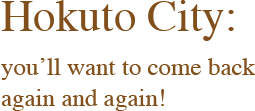 The former towns of Kamiiso and Ono in the Oshima Subprefecture of southern Hokkaido Prefecture were merged on February 1, 2006 to form Hokkaido's 35th city, Hokuto. Blessed with fertile plains and a temperate southern Hokkaido climate, Hokuto is the site of moderate yet lively urban development focused on industries such as fishing, agriculture, commerce and industry.
Hokuto is bursting with attractions including the famous surf clams from the neighboring Tsugaru Strait and other seafood delicacies, tomatoes and other agricultural products, and cherry trees on the grounds of the Hekirichi former administrative headquarters of the old Matsumae Clan's domain. But the city's best assets are its friendly citizens, who warmly welcome visitors with a smile.
Furthermore, the planned 2015 construction of a station in Hokuto on the Hokkaido Shinkansen ("bullet train") route will be a major turning point for our city, and fervent measures are already underway in preparation for welcoming future visitors.
We hope that you will come and visit us in Hokuto City at least once—or even on multiple occasions!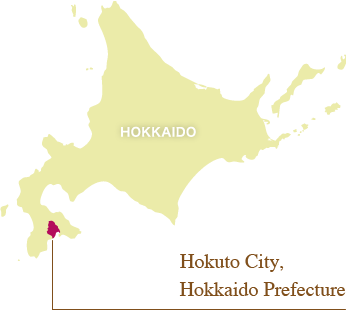 ■

Area:
397.30km²

■

Population:
48,577
(Basic Resident Register, Mar. 1, 2013)

■

Population Density:
123/km²

■

Neighboring Municipalities:
City of Hakodate, Town of Kikonai, Town of Assabu, Town of Nanae, Town of Mori

■

City Trees:
Japanese black pine, Japanese beech

■

City Flowers:
cherry blossom (spring), marigold (summer), rose of Sharon (autumn)
◆ Hokuto City Tourist Association
1-3-10 Chuo, Hokuto, Hokkaido 049-0192, Japan
TEL: 0138-74-3566